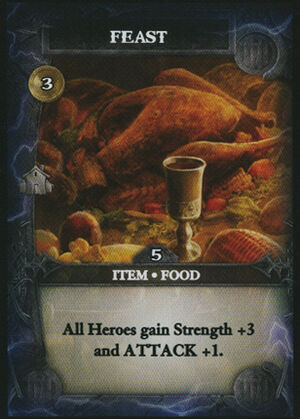 Feast is a food item from the base set that is applied to every hero revealed when a player enters the dungeon, granting each one a bonus of +3 Strength as well as +1 Physical Attack. A total of four heroes would therefore add a total bonus of +4 to the Total Attack Value.
Destroying this food for card effects, such as the Thyrian/Outlands heroes, prevents any of its own effects from taking place - the Strength / Physical Attack bonuses are lost.
Ad blocker interference detected!
Wikia is a free-to-use site that makes money from advertising. We have a modified experience for viewers using ad blockers

Wikia is not accessible if you've made further modifications. Remove the custom ad blocker rule(s) and the page will load as expected.