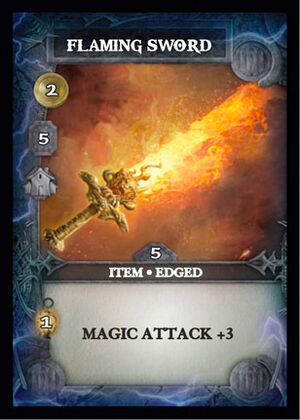 The Flaming Sword is an edged weapon from the base set. It can be equipped by heroes who have at least 5 Strength.
In addition to providing +3 Magic Attack, it also adds 1 point of light to assist in removing darkness in the dungeon.
Official Glossary entry from 1.4 Rules
Edit
You only gain the Light bonus if the Flaming Sword is equipped to a Hero.
Ad blocker interference detected!
Wikia is a free-to-use site that makes money from advertising. We have a modified experience for viewers using ad blockers

Wikia is not accessible if you've made further modifications. Remove the custom ad blocker rule(s) and the page will load as expected.