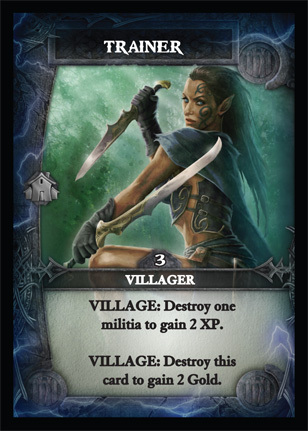 The
Trainer
is a
villager
from the first generation
base set
.
The Trainer can destroy one Militia to gain two Experience Points.
The Trainer can destroy itself to provide two gold for purchasing village cards during the same turn.
This is one of the more powerful Village cards available in the base set due to the speed at which a player can not only gain Experience early in the game, but also weed out the weaker Militia to improve their hand draws.
Ad blocker interference detected!
Wikia is a free-to-use site that makes money from advertising. We have a modified experience for viewers using ad blockers

Wikia is not accessible if you've made further modifications. Remove the custom ad blocker rule(s) and the page will load as expected.